FiiO M9 Touch Screen Hi-Res Player Bluetooth 4.2 aptX/aptX-HD LDAC DSD & 2x AK4490EN DAC
Secure One-Page Checkout
$399.99

FiiO

Authorised
---
FiiO M9
Low Stock :

Order Soon
Limited stock available. Purchase before this product goes to backorder.
399.99
EAN : 6953175760399
5% Price Promise
Warranty : 1yr Manufacturer

One Year Warranty
Parts and Labour Warranty
Canada-wide Coverage
FiiO Authorized
View the detailed warranty policy
14 Day Money Back

Return for Full Refund
14-Day Return Period
Satisfaction Guarantee*
*View the full return policy
Order Now
:
Ships Mon
Order Today
Ships next business day
In stock and ready to ship
NOTE: Continues shipping during the shutdown.
Standard Canada-Wide Free Shipping
FREE
Coast-to-Coast Free Shipping
Residents of Canada Only*
*Full shipping policy
FREE with this order!Enjoy your free gift with the purchase of this order. It will be added to your cart but discounted in the total.

NOTE: Free Gifts can not be combined with other promotions.

Portable High-Resolution Audio Player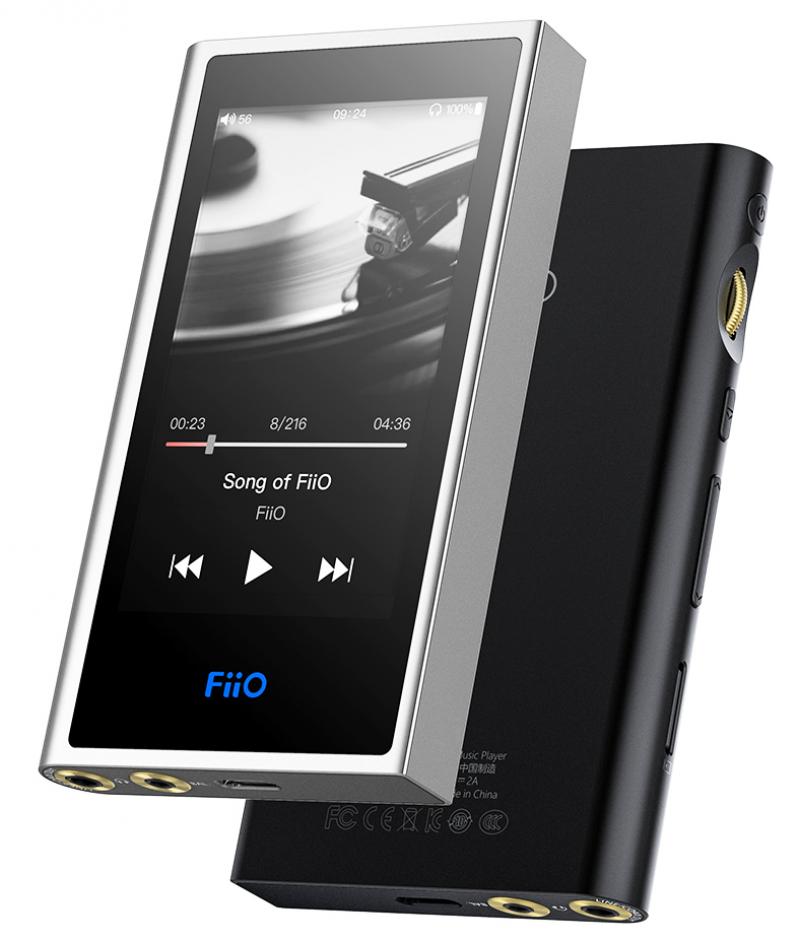 A player that does it all:
When developing the M9, we at FiiO saw that there wasn't any one player that combined all of the functions people want. Was there a player that could transmit the HWA/aptX/aptX HD/LDAC lossless Bluetooth codecs, even when used as a USB DAC? What about something that also contained a highly optimized audio circuit for excellent sound quality? Did any players also give the user an experience worthy of a flagship, capable of many features including Wi-Fi music streaming all in a slick interface? We sought to change that with the M9 - which does all of this and more.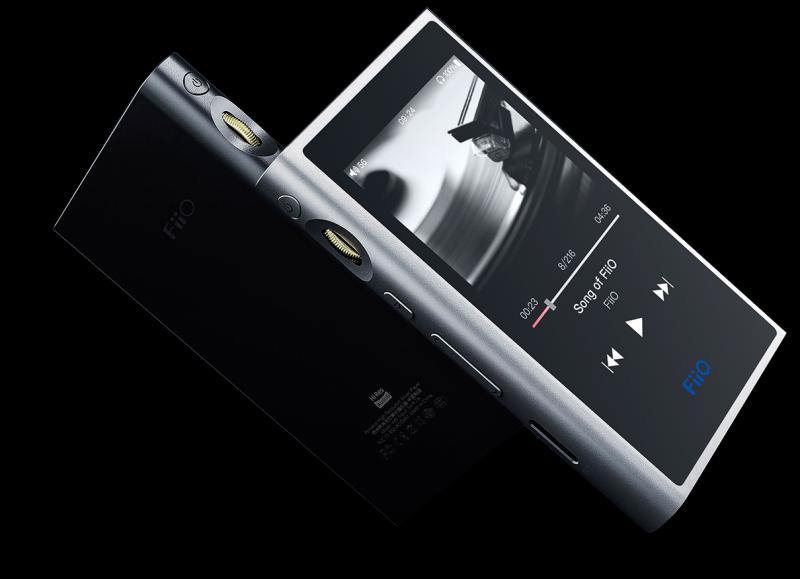 Bluetooth audio unleashed with full format support:
The M9 uses Bluetooth 4.2 and supports virtually all Bluetooth formats including the high-resolution ones for your ultimate listening pleasure, including: 24-bit aptX HD (also backwards compatible with aptX), LDAC, and HWA.
Dual AK4490EN DACs for superb decoding performance:
The two AK4490EN DACs employed in the M9 feature a high signal-to-noise ratio, exceptional dynamic range, and low distortion - making for a precise yet exciting sound signature.
Built-in dedicated FPGA with DSD128 hardware decoding:
Inside the M9 is a high-performance A3P030 FPGA, responsible for ensuring your music (whatever sample rate) is played back accurately by stabilizing digital clock signals. The FPGA also decodes DSD64/128 in hardware, which the M9 supports in ISO/DFF/DSF formats.
Eight-layer HDI PCB ensures excellent sound quality:
For the first time, in the M9 FiiO uses an eight-layer HDI (High Density Interconnect) PCB with a thickness of only 0.08mm. While the M9 PCB is more complex than the one in the M7, it also allows more components to be integrated into a smaller space, leading to a smaller PCB and a smaller device overall. Combined with the fact that the M9 PCB is L-shaped, similar to modern smartphones, and you have a recipe for outstanding sound quality.
Specially-designed audio circuit with balanced and single-ended outputs:
The TI OPA1612 is used as the LPF, while the TI OPA1622 serves as the current buffer. To achieve single-ended and balanced output, there are two OPA1622 op-amps used that provide up to 77mW* of power under a 300Ω load.
Get your music from wherever and whenever:
With the M9, you can get your music from wherever, whenever. Don't want to deal with wires when transferring your songs over? Use Wi-Fi on the M9. Want to listen to your music on your computer? Do so with DLNA without having to worry about space on the M9. Want to discover new music on streaming services? The built-in streaming apps have you covered.
Always your faithful companion:
Under normal usage the M9 can last around 10 hours, while in deep sleep (standby) mode the M9 can be still be used after a whopping 45 days! And being in deep sleep mode does not mean sacrificing convenience - just hit the power button, and the M9 instantly is ready to go.
Indulge in the pleasure of balanced:
The M9 contains both single-ended 3.5mm and balanced 2.5mm audio jacks, for even more ways to listen with your headphones. The M9 also supports in-line controls in both CTIA (common with Android headsets) and iOS headsets. (With iOS headsets, only play/pause functionality is supported.)

A picture is worth a thousand words:
Unique to the FiiO M9 is RGB light indicator status that shows what audio format you are listening to! Instantly know what audio format your M9 is playing as well as its overall status, with the indicator status showing red to remind you to charge your device.
Bring out the best in your computer with USB DAC functionality:
The M9 can be used as an asynchronous USB DAC with both Macs and Windows PCs. With Mac computers, you can just plug-and-play the M9 with no drivers needed. With Windows PCs, a simple install of drivers by FiiO is needed. The M9 can also act as your computer's Bluetooth transmitter - simply hook the M9 up to your computer as a USB DAC, and then have the player transmit Bluetooth audio to your headset!
USB audio and coaxial out support:
The M9 supports USB audio out (send digital audio bits through USB), with even support for DoP/D2P. Also, the M9 is one of the few players that can receive Bluetooth audio and output it through coaxial (SPDIF) out.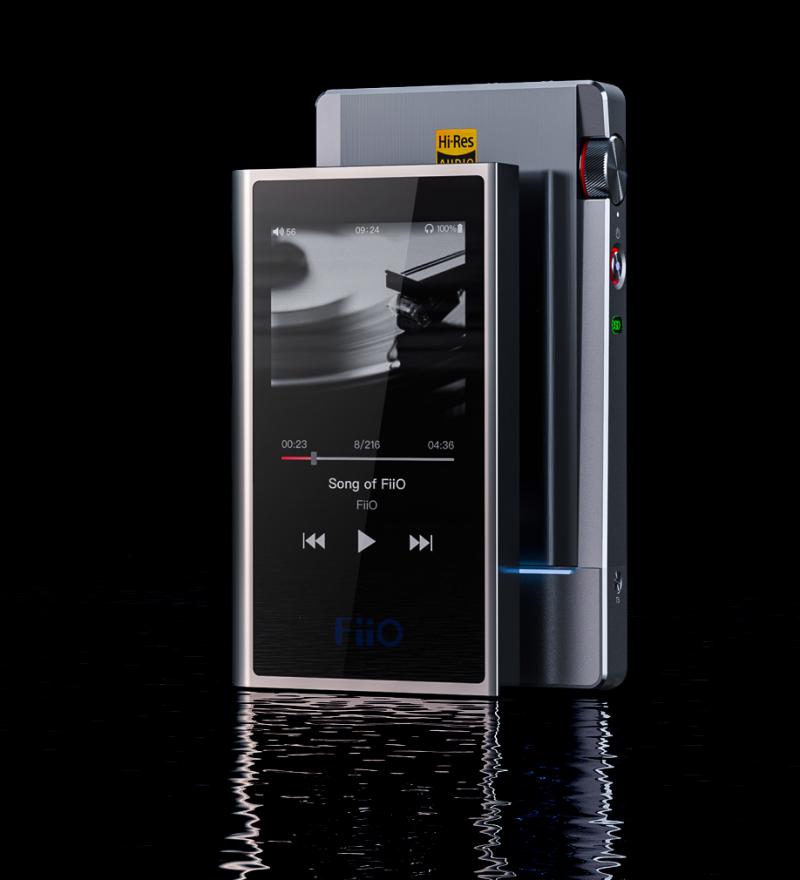 Incredibly fast with a deeply customized OS:
In the heart of the M9 lies the Android operating system, deeply customized by FiiO. This allows you to navigate through menus at an astonishing speed and with amazing ease due to the carefully thought out customized user interface.
Also, apps for popular streaming services including NetEase Cloud Music, MOOV, Tidal and KKBOX are pre-installed to allow even more ways to listen to music.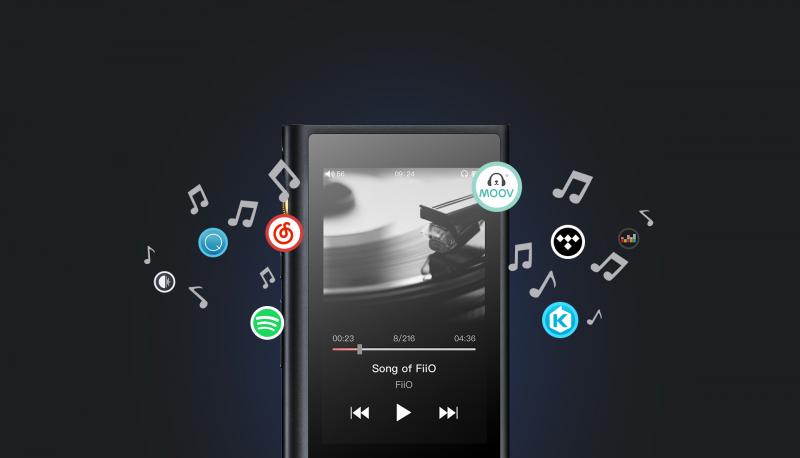 An intensely orderly design language:
The all-aluminum body tastefully combines both straight and rounded edges in an unmistakably unique design, with the gentle curve of the left side naturally transitioning to the bold straight lines of the right side. Despite its beautiful form, the M9 doesn't sacrifice functionality - the volume wheel has been upgraded for more accurate control and a better, more tactile feel; while the power, play/pause, and change tracks buttons on the left have been arranged for even greater comfort in using the player.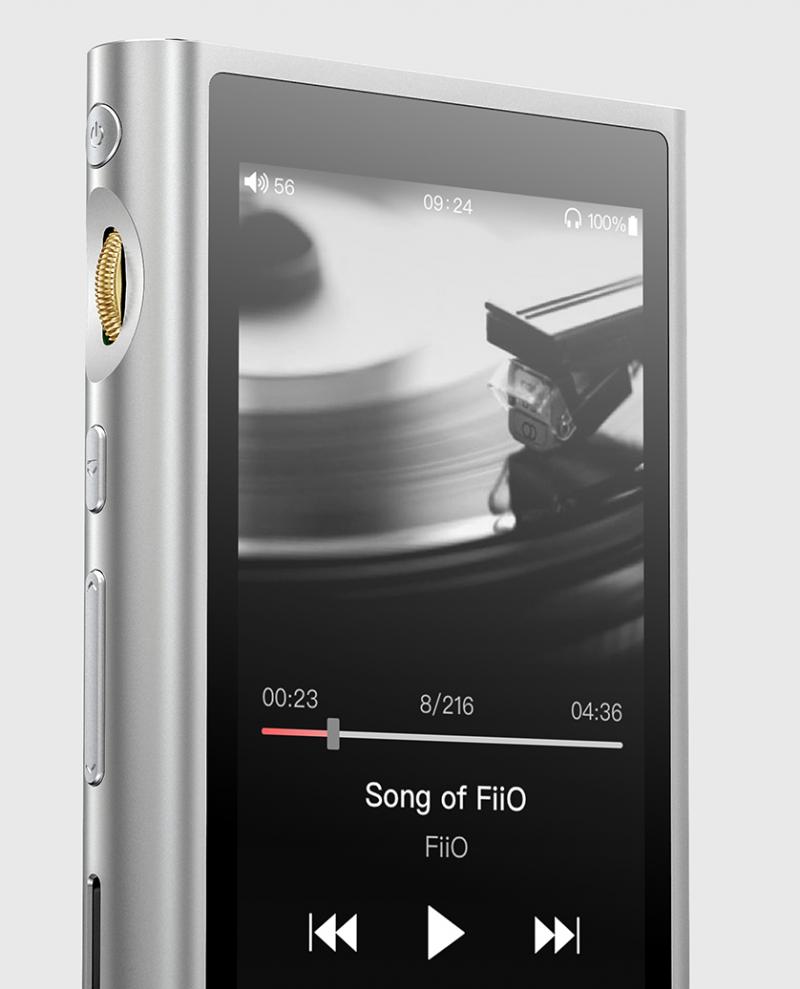 LG IPS touchscreen with in-cell technology:
Adorning the front of the M9 is a vibrant, clear 3.2 inch IPS screen capable of 16 million colors and supporting 5-point touch. This IPS screen allows you to easily operate your device with its ability to show even the finest of details.
Contemporary USB Type-C connector:
The M9 utilizes the modern USB Type-C connector, which allows it to not only be used as a USB DAC but also allows output of digital audio signals to other devices through USB. Of course, USB Type-C also enables charging and file management on the M9 when connected to other devices.

Be accepting of all music with 2TB of storage:
The M9 comes with a healthy 2GB of storage, but the storage can be expanded up to a massive 2TB with micro-SD card!
Hi-Res Audio certified:
The M9 has been certified by the Japan Audio Society to be "Hi-Res Audio" worthy, only achieved by devices truly capable of bringing a realistic and natural audio experience.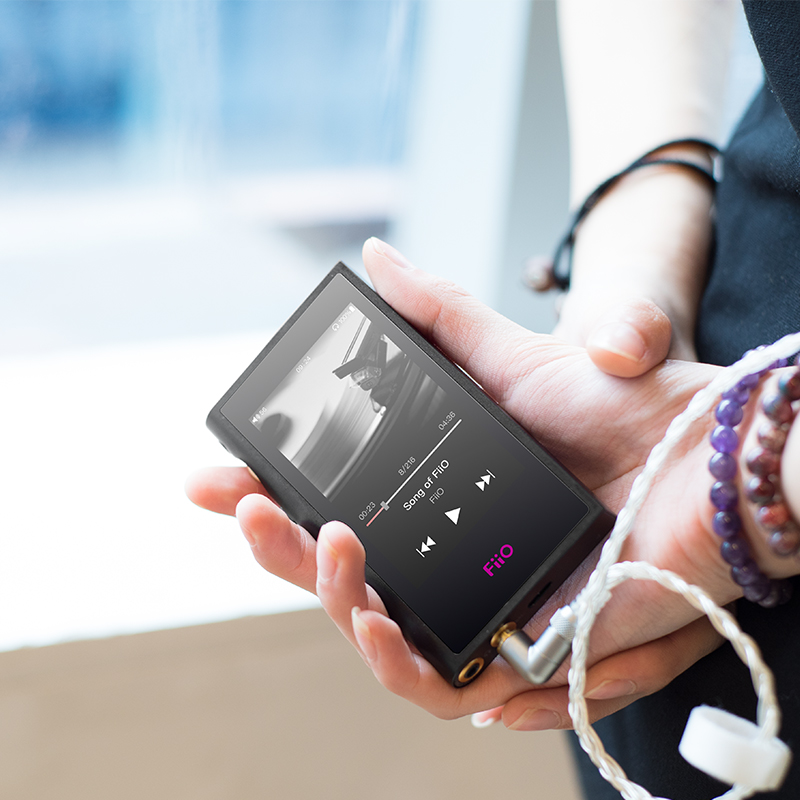 Specifications:
Main Unit:
Name / Model No.: M9
CPU model: Exynos 7270 14nm
CPU operating frequency: 1GHz
Keyboard: Virtual QWERTY keyboard
Special features: LDAC, HWA, Gesture operation, WiFi Streaming, RGB indicator for different formats, Bi-directional Bluetooth, 8-layer HDI PCB
Operating System: Customized
No. of cores: 2
DAC: AK4490ENx2
Input method: Multi-touch screen
User interface: Customized/FiiO Music
Chips used: SoC: Samsung Exynos 7270, DAC:AK4490EN*2, FPGA:A3P030, LPF:OPA1612, BUF:OPA1622*2

Bluetooth chip: SAMSUNG S5N5C10B01-6330
Connectivity:
WiFi: 2.4G, WiFi transmission supported
USB: TYPE C Two-way USB2.0
HWA(LHDC): Available when playing on M9 or using M9 as USB DAC
Bluetooth: 4.2
Bluetooth transmit: LDAC/aptX/aptX HD/SBC(Available when playing on M9 or using M9 as USB DAC)
Bluetooth receive: SBC/LDAC to be supported
AirPlay: To be supported
FLYLINK: To be supported
DLNA: Supports Windows for now, will support more in the future
Display screen:
Display size: 3.2 inches
Display type: LG IPS screen
Resolution:480x800
Touchscreen: 5-finger multi-touch
Number of colours: 16M
Viewable angle: Full-view
Pixel density(PPI): 292
Storage:
RAM: 768MB
Storage expansion type: Micro SD card
Maximum storage expansion: Theoretically 2TB (only one micro SD card slot)
ROM: 4GB
ROM available to user: 2GB
Buttons and ports:
Buttons: Physical button+Side volume scroll+Touch screen
Headphone out (PO): 3.5 mm headphone jack+2.5mm balanced headphone jack
Line out (LO): 3.5 mm port(shared PO)
USB: Two-way TYPE C USB2.0(Charging/Data transmisson/USB DAC/USB Audio)
SPDIF output: 3.5mm port(shared PO)
General:
Color: Silver(might have more colors coming out)
Weight: about 133g
Recommended headphone impedance: 16~300Ω
Balance control: ±5dB
USB DAC: Asynchronous 192kHz/32bit
Dimensions: 60mm*106mm*13.3mm
Volume control: 120 steps +/- button control
Equalizer: 10-band EQ (±6dB), 9 presets+custom preset
Gain control: L/H
USB Audio: DSD64/128, DoP/D2P
Power specifications:
USB power adapter: DC 5V/2A recommended
Battery capacity: 2350mAh Li-polymer battery
Charging indication: Large charging icon shows on display when it's off, small charging icon shows on upper right of display when it's on
Battery indication: Yes (accurate battery % readings)
Charging time: <2h(DC5V/2A)
Deep sleep time: 45 days
Battery Life & Test Conditions:
3.5mm headphone output:>10h
Volume: 46
Load: M3 open earbuds (27 Ω)
Screen: OFF
Test File: MP3 44.1kHz/16bit
EQ: OFF
2.5mm balanced output:>9h
Volume: 48
Load: M3 open earbuds (27 Ω)
Screen: OFF
Test File: MP3 44.1kHz/16bit
EQ: OFF
Bluetooth output:>30h(SBC)
Volume: 60
Load: BTR1+FH1
Screen: OFF
Test File: MP3 44.1kHz/16bit
Others
Firmware Upgrade: Supports both via zip file and OTA (*The product uses GPLv2 compliant firmware.)
Firmware Upgrade: Supported
Third-party apps support: Supports installation of APP(Spotify, Qobuz, Roon, Deezer) in the white list
Line output specifications:
THD+N: <0.002%(1kHz/10kΩ)
SNR: ≥117dB (A-weighted)
Frequency response: 5Hz~80 kHz(-3dB)
Noise floor: <5uV
Channel separation: >105dB
Line level: 2V
Headphone out specifications 1(3.5mm port)
Output power 1: ≥125mW(16Ω / THD+N<1%)
Output impedance: <2Ω
Output power 2: ≥170mW(32Ω /THD+N<1%)
THD+N: <0.002%(1kHz/32Ω)
Output power 3: ≥19mW(300Ω / THD+N<1%)
Separation: >72dB
Frequency response: 5Hz~80 kHz(-3dB)
Peak output voltage: 6.5Vp-p
SNR: ≥118dB (A-weighted)
Noise floor: <5uV
Headphone out specifications 2(2.5mm port)
Output power 1: ≥125mW(16Ω / THD+N<1%)
Output impedance: <2Ω
Output power 2:

≥195mW(32Ω /THD+N<1%, balanced turbo off)
≥220mW(32Ω /THD+N<1%, balanced turbo on)

THD+N: <0.002%(1kHz/32Ω)
Output power 3:

≥24mW(300Ω / THD+N<1%, balanced turbo off)
≥77mW(300Ω / THD+N<1%, balanced turbo on)

Separation: >98dB
Frequency response: 5Hz~80 kHz(-3dB)
Peak output voltage: 7.07Vp-p
SNR: ≥113dB (A-weighted)
Noise floor: <10uV
ITEM
WATCH
5

out of 5 stars -

6 reviews

Read Reviews | Write Review
Customers who bought this product also purchased...