FiiO K3 Pocket-sized Headphone Amplifier & USB-CDAC
Secure One-Page Checkout
$159.99

FiiO

Authorised
---
This product is brand-new and factory sealed

Brand-new. Full Warranty.

Buy with confidence. This product is brand-new and authorized by FiiO for sale by Electronics for Less Canada.

FiiO K3
In Stock
159.99
EAN : 6953175710165
5% Price Promise
Warranty : 1yr Manufacturer

One Year Warranty
Parts and Labour Warranty
Canada-wide Coverage
FiiO Authorized
View the detailed warranty policy
14 Day Money Back

Return for Full Refund
14-Day Return Period
Satisfaction Guarantee*
*View the full return policy
Curbside pick up available in Richmond Hill, Ontario.

Fast Pick Up Available

Please choose the curbside pick up option in the checkout.
Curbside Information
Order by 2pm
:
Ships Today
Ships out Immediately
Order Before 2pm
In stock and ready to ship
NOTE: Continues shipping during the shutdown.
Standard Canada-Wide Free Shipping
FREE
Coast-to-Coast Free Shipping
Residents of Canada Only*
*Full shipping policy
More Product Options
Save when you combine products

Added Bounus Items & Cards

If its FREE, leave it green
If its discount, click it green!

How do added bonuses work?
---
ddHifi Portable HiFi & DAC Carrying Case.

$49.99 value.

Add it for only $34.99.

(SAVE 30%)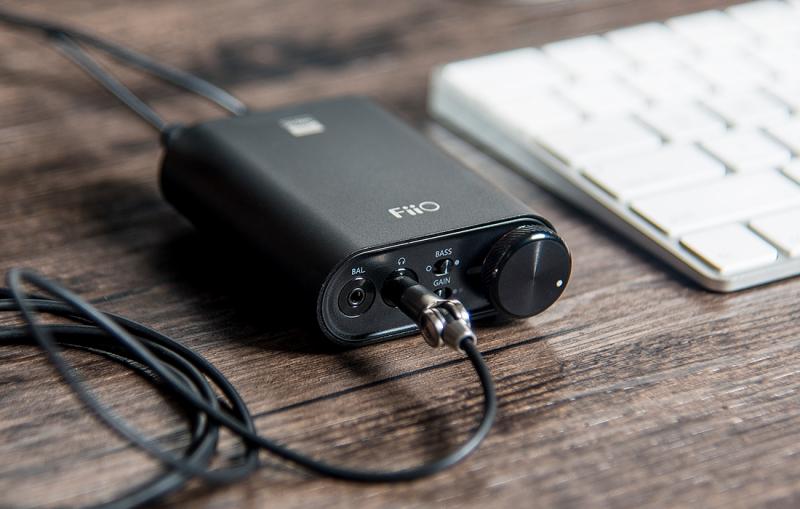 2 USB audio modes | PCM384k/DSD256 decoding |
Dual headphone outputs Dual digital audio outputs | ADC volume control
Headphone Amplifier & USB-C DAC
Pocket-sized Power Flexibility
Boost your computer's sound with capable decoding
Equipped with an XMOS USB receiver chip, the K3 is capable of decoding up to 384kHz/32 bit PCM and native DSD256 – the same as many DACs costing much more. The K3's dual crystal oscillators ensure that any digital audio signal being fed into the DAC are exactly correct for further enhanced sound quality. Just connect the K3 to your computer via USB to instantly upgrade to high-fidelity sound, and enjoy your music the way it was meant to be heard.
Highly optimized architecture for maximum potential
The K3's well-thought-out internal design consists of two main layers, working  together perfectly in harmony. Digital processing is carried out by the high- performance AKM AK4452 with 32-bit VELVET SOUND technology and fully differential outputs for true balanced output, while the analog signals are handled and amplified by a design consisting of LPF/voltage amplification and a current drive circuit.
Wash away the noise with low-distortion op-amps 
The combination of the proven OPA926 with its low-distortion, low-noise, and high output swing along with the professional-grade TI OPA1612 acting as the low-pass  filter (LPF) ensures the K3 effortlessly provides highly resolving sound, pumping out 320mW at 16Ω from the balanced output.
Simply reliable USB power
The K3 adopts the modern USB Type-C input interface for a more reliable and stable connection, including that of power. However, care to ensure an uncompromised power supply doesn't stop there – the K3 implements overvoltage protection (OVP) and a double-filter circuit to ensure power supply stability, while the digital and analog audio circuits each get their own power supply to greatly reduce crosstalk.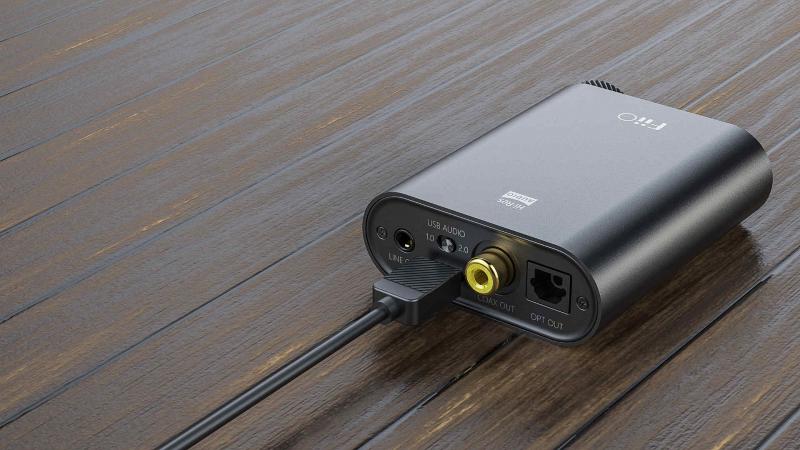 No more channel imbalances with ADC volume control
The secret to effectively eliminating channel volume imbalances is to use an ADC volume control, which is implemented in the K3. Plus, an added side benefit is that by reconstructing the ADC curve, the user is able to smoothly adjust the volume to a more accurate and finer degree, allowing the K3 to be used with headphones of all kinds of sensitivity for a variety of listening needs.
Gain and bass switches to enhance your experience
The switch for high and low gain ensures that you  can use the K3 with a wide variety of headphones, and that your listening volume needs are covered. The hardware bass boost switch enhances the dynamic range of the lower frequencies and gives them some extra punch to really make your songs, games, and movies come to life.
Tiny round goodness in the palm of your hand
The all-aluminum black body has been painstakingly CNC-machined, anodized, and sandblasted to ensure that the K3 feels robust yet perfectly textured for a great feel in your hands. Combined with its small size, you  can easily take the K3 wherever you need to.
Two modes for many situations
Sometimes, you may not have access to a device that can connect to the K3 via USB  Audio Class 2. In these situations, you can go to USB Audio Class 1 mode with just  the flick of a switch.
​​​​​​​*Using the 2.0 mode requires downloading and installing the FiiO USB driver *After switching USB modes, you need to either turn the K3 off and on, or unplug and plug in the USB cable.
A distinctly cohesive tactile audiovisual experience
The volume knob, with 45° notches etched onto its surface and perfectly sized to allow easy one-finger operation, is designed to perfectly blend in with the curves of the K3's body for a distinctive touch. Next to the volume knob is an RGB light that indicates what kind of digital audio is being input to the K3, visually confirming what you are hearing in your music.
Different connection options for different scenarios
Connect it to a desktop computer
Use the driverless 1.0 mode for business trips
Make it a digital turntable connected to an external decoder
Connect it to a speaker, using the K3 as a DAC
Dual headphone jacks
Being optimized for indoor desktop use, the K3 is equipped with both 3.5mm single-ended and 2.5mm balanced headphone jacks. Both outputs have audio jack detection, which means that when headphones are inserted into the balanced out, balanced boost automatically kicks in resulting in about a 50% output power increase compared to the single-ended out.
Line out connector
The 3.5mm line out is driven directly by the OPA1612 op-amp, to ensure as little sound quality reduction as possible. The line out output is also adjustable with maximum power output up to 2Vrms, to ensure compatibility with a wide variety of active speakers and external amplifiers.
Coaxial and Optical digital outs
The XMOS USB receiver chip in the K3 directly converts any USB audio input to digital signals output via the coaxial and optical connectors, allowing you to connect to speaker systems, amplifiers, or other external decoders.
Model No. : K3
USB : Type-C
USB Audio Class : UAC1.0 + UAC2.0
Volume Knob : ADC
Gain : L/H
Bass Boost : 0/+6dB
Line Out : 3.5mm
Headphone Out 1 : 3.5mm single-ended output
Headphone Out 2 : 2.5mm TRRS balanced output
Coaxial Out : RCA for 192kHz, support DSD64 DOP
Optical Out : Up to 96kHz 
USB Chip : XMOS XUF208
USB Driver : ASIO/KS/DS/WASAPI/DSD DOP(Native)
Audio DAC : AKM AK4452
LPF OP AMP : TI OPA1612
Driver OP AMP : OPA926×2
Output Power 1
(3.5mm headphone output) : 220mW(16Ω)
120mW(32Ω)
Output Power 2
(2.5mm TRRS balanced headphone output) : 320mW(16Ω)
200mW(32Ω)
Line Level : 1.9Vrms
DAC : 384kHz/32bit
DSD : DSD256
SNR : ≥113dB
THD+N : ≤0.004%
Frequency Response : 20Hz-80kHz
RGB indicator  : Sample rate ≤ 48kHz  - Blue
Sample rate >48kHz - Yellow
DSD format - Green
Dimensions : 70×58×22mm
Weight : 82g
More Product Options
The K3 line by FiiO
---
Customers who bought this product also purchased...