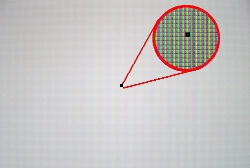 Defective Pixels on Televisions
Our TVs generally come with a two week standard return policy. You can request a return authorization from your order dashboard. Since the issue of dead pixels are dependent on the manufacturer specification, we offer our standard return policy which stipulates that shipping is paid and restocking fees are honored until the manufacturer has inspected the product in our shipping facility.
We recommended dealing directly with the manufacturer in the case of dead pixels within the 14 day return allowance. This solution is a more rapid and convenient way to resolving the issue of dead pixels. Our team of product specialist are also here to help and are ready to offer answers and assistance when dealing with the manufacturer.
Depending on the resolution of your TV set you will have approximately 1 million to 8.3 million pixels on a typical LCD panel.
Resolutions Pixels on Screen
1366 x 768 : 1,049,088
1920 x 1080 : 2,073,600
3840 x 2160 (4K) : 8,294,400
The action the manufacturers will take regarding a dead or stuck pixel will depend on the information below:
The number of dead pixels
The location of the dead pixels
The color of the dead pixels
The size of the screen
If you are having a serious problem with dead pixels, gather the information listed above.
For LG Customer Care call 1-888-542-2623.
For Samsung Customer Care call 1-800-Samsung (1-800-726-7864).
Have the model number and serial number of your TV on hand when you call.