Why am I charged an Environmental Handling Fee? Your purchase may include an Environmental Handling Fee (EHF) or an Advanced Disposal Surcharge (ADS). This fee is collected on behalf of provincial governments and remitted under provincially approved recycling programs. For more information on individual programs please visit your provincial government's website for the Ministry Responsible for Environmental Affairs.
---
ONTARIO Electronic Stewardship Table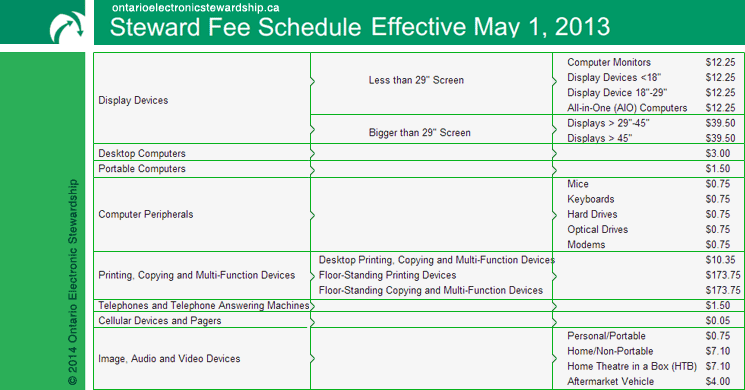 Download the official table from the OES here.
About Ontario Electronic Stewardship (OES)
Ontario Electronic Stewardship (OES) is a not-for-profit organization formed by leading retail, information technology and consumer electronic companies to implement the Waste Electrical and Electronic Equipment (WEEE) Program Plan under the Waste Diversion Act. The plan requires brand owners, first importers, franchisors, and assemblers to pay fees for electrical and electronic equipment (EEE) supplied to Ontario. Collected fees will be used by OES to operate the WEEE program.
The OES is governed by a volunteer Board of Directors which consists of Stewards from across the supply chain representing the full range of obligated EEE. Only officers, directors, and/or employees of companies that supply designated EEE for use in Ontario are eligible for appointment to the Board. The Board is composed of 10 voting directors and 2 observers (non-voting). The OES Governance Committee and Chair review the board composition against marketplace supply chain structure to ensure adequate steward representation for all affected obligated products.
Contact Ontario Electronic Stewardship (OES) Web Site
26 Wellington Street East
Suite 601
Toronto Ontario, Canada M5E 1S2
Tel. 1-888-646-1820
Fax 416-594-3463.
Email: [email protected]
---